Wisdom Impact House (WIH) focuses on "empowering young people for future relevance". We believe this can be best achieved by ensuring young people are access learning opportunities are available, affordable and accessible to young people.
Therefore, WIH focuses on supporting young people to enrol and stay in formal education until the end of secondary school and acquire vocational skills along side. WIH also conducts regular monitoring of the students in school as well as conducting extra lessons to cover gaps in reading skill.
We need your support to make this happen for as many young people as possible.
WIH currently supports 38 students at different levels of education from primary to senior secondary school in the north central zone of Nigeria. Our 2021/2022 academic session budget is N526,400 covering books and fees for 38 students already enrolled in schools in the FCT and Kogi state. We also want to enrol 10 new children back into Junior (5) and Senior Secondary (5) School at a budget of N344,750.
How you can help?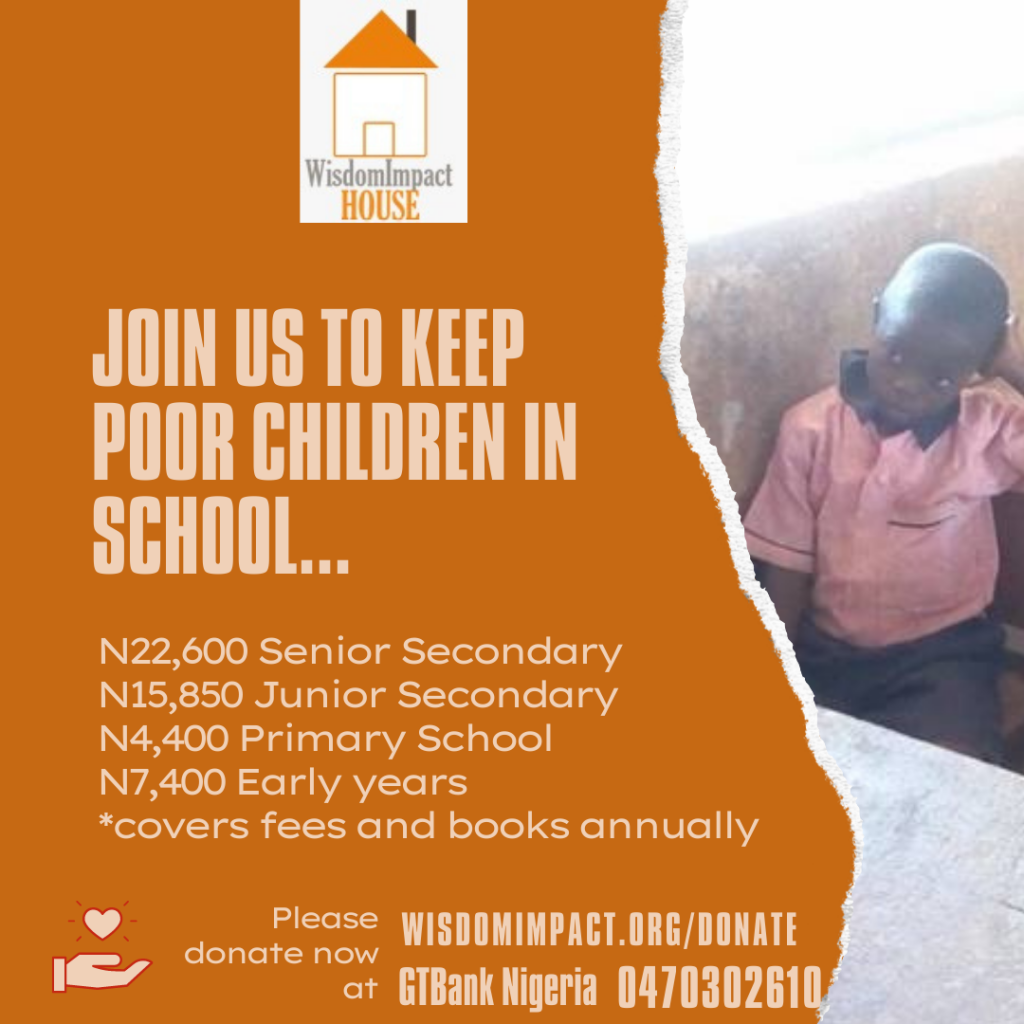 Monthly – pay monthly to support one or more children to stay in school
N1,900 Senior Secondary
N1,350 Junior Secondary
N400 Primary School
N620 Early years
*covers fees and books for one student
Termly – support one or more children to stay in school for one more term
N7,500 Senior Secondary
N5,300 Junior Secondary
N1,500 Primary School
N2,500 Early years
*covers fees and books per term for one student
Annually – support one or more children to stay in school for one more academic session
N22,600 Senior Secondary
N15,850 Junior Secondary
N4,400 Primary School
N7,400 Early years
*covers fees and books annually for one student
One off support for a child to get enrolled in school
N41,800 Senior Secondary
N27,150 Junior Secondary
N13,000 Primary School
N13,000 Early years
*covers fees, book & uniforms for first school year for one student
Donate through electronic transfer
Web Payment through paystack: https://paystack.com/pay/wih_donate
Bank Transfer:
Wisdom Impact House Foundation Guaranty Trust Bank Nigeria.
Naira Account: 0470302610
USD Account: 0470302634 Swift Code: GTBINGLA
Need help deciding what to do? Please contact us.